Displaying your Guest spots and Conventions has never been this easy!
---
F j, Y

Floyd@TT
You can now manage all your performances using the same menu and add locations, which are not yet recorded on TT!
It is of course still possible to connect a Studio and a Convention strait from their pages, but if you want to quickly add all your performances at once and manage their status, here's how:
As usual, login to your account, click the tab with your name, select "MY PROFILE," go to "AVAILABILITY AND TOURS – MANAGEMENT" and here it is!
Type the Studio or Convention name as seen below and select it: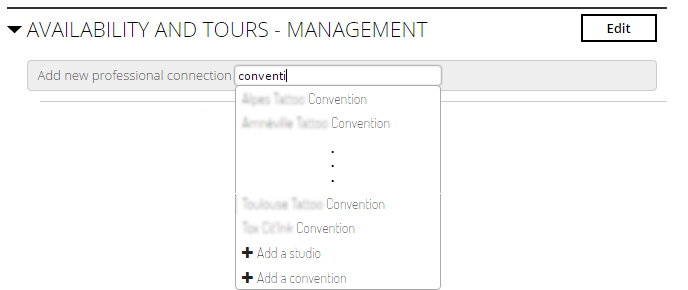 If the Studio or Convention you are looking for is on the list, click on it and a new field will open to ask you what your relationship is with this profile: Boss, Resident or Guest (with your dates) for a Studio or Attending (with Convention dates) for a Convention, as you can see below. Check the information and click SEND! That's all!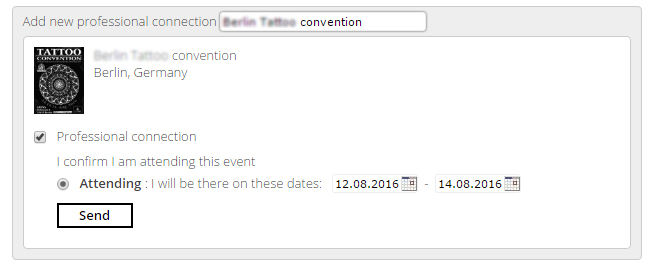 If the Studio or Convention is still not part of the network, no problem, you can just ADD them from there.

Give us the minimal information about the Studio or Convention. The name of course, the address to display on the map and finally the email to contact them!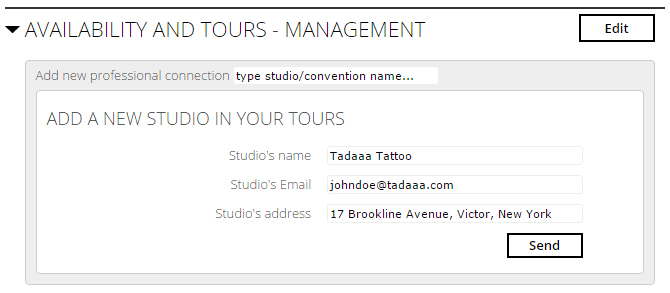 After clicking SEND, as mentioned before you can define your connection with the Studio or Convention.
Voilà! Every time you add a Studio or a Convention it will be immediately displayed on your Artist profile on your section "AVAILABILITY AND TOURS"! On our hand, we will complete their profile and contact them soon after to be officially part of TattooTravelers for free!
Here you can see how looks a complete profile!
And last but not least, as you've seen on all images, there is an EDIT button at the top right, which is for editing your BOOKING button. If you are fully booked for the upcoming Convention or Guest spot, just announce it! If you are not accepting bookings at your Resident studio during a holiday, or you take bookings in batches, or you have simply stopped tattooing in order to manage your Studio, just select the right field, there are plenty of options!
I hope this will really help you in keeping your profile UP-TO-DATE displaying your different performances!
Hasta la vista!
Floyd
---